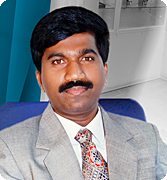 MD,DM (PGI, Chandigarh)
DNB(Resp,Med)
Head of the Department of
Pulmonology, Critical Care &
Sleep Medicine
Dr. B. Shyam Sunder Raj a renowned Pulmonologist is the Chairman And Managing Director of Sreshta Chest Hospital. He is the Proud Product of Osmania Medical College. He has done his MBBS in 1985 and MD in 1991.Subsequently he rendered his services as registrar, in Department of Internal Medicine at NIMS from 1991 to 1993.He is the FIRST Pulmonologist from South India to achieve DM in Pulmonary Medicine at PGI Chandigarh in the year 1993. He has completed his DM in 1995. He Is the highly qualified Doctor in the branch of pulmonology and the respiratory medicine. He also had done DNB in Respiratory Medicine to his credit. He is member of American Thoracic Society, European Respiratory Society .

He was associated with reputed corporate Hospitals in Hyderabad, India. He delivered his services as senior consultant Pulmonologist at Medwin Hospitals from 1995 to 2005. He was Chief Pulmonologist at Image Hospitals from 2005 to 2010. He has the credit of managing hundreds of critically ill patients annually along with much more number of patients with other ailments like Pneumonia ,Asthma,COPD, Snoring, OSA, ILD, TB, Lung Cancer, Post Transplant and Cardio thoracic patients.
Dr B Shyam Sunder Raj is one of the Best Doctors in Chest Medicine with nearly 20 years of experience as expert Clinician In Chest Medicine. This Vast knowledge coupled with experience in allergy and immunology (CSIR Centre for bio-chemicals, New Delhi) helped thousands of allergy and asthma patients seeking best treatment with him.
Dr B Shyam Sunder Raj is one of the leading persons in interventional pulmonology handling variety of difficult cases. He had exclusive opportunity to learn Bronchoscopic Procedures - Trans Bronchial Lung Biopsy(TBLB),Trans Bronchial needle aspiration (TBNA), Organ Plasma Coagulation (APC) ,Crytherapy, Brachytherapy, Laser, Stent and Thorachoscopic procedures at Oxford, UK.
He has full fledged Sleep Lab with ultra modern equipment - MEDCARE , EMBLA - N 7000. Number of patients with snoring OSA get benefited everyday with polysomnography , split studies and CPAP trials.
Dr B Shyam Sunder Raj has fascination in teaching the students with bed side clinics and regular academic programs. A number of MD and DNB Residents were trained under his guidance both in Respiratory Medicine and Internal Medicine. As part of interest in Academics, he keeps educating Medical Students, Post Graduates and clinicians at various forums like Continuing Medical Education ( CME ) , Conferences both at State and National Level.
He felt responsibility in imparting Medical Knowledge and updates in Pulmonary Medicine to his patients through hundreds of Patient Education Programs . He is a Popular Columnist for several Weekly and Daily News Papers like Eenadu, Vaartha , Andhra Jyothi, Andhra Bhoomi Etc. He is very familiar to readers of Naadi in Vaartha News Paper for nearly two decades . He wrote series of Books on chest Deceases in the regional language (TELUGU) with the name Lung Care "Swasalo Swetcha".
Dr B Shyam Sunder Raj is well-known Doctor in the Electronic Media . He is invited by several TV Channels Like TV9, ETV, ETV2, TV5, HMTV,HYTV, NTV, StudioN, ZeeTV, Citicable, and Doordarshan to give his Expert Opinion about current burning medical issues and to deliver Speeches on various Respiratory problems . He had the credit of being panelists on ETV2 when president Bill Clinton ,USA, visited Hyderabad in the year 2000.
Being kind hearted he feels, Social responsibility to deliver the services to the poor and the under privileged. He has conducted several hundreds of FREE HEALTH CAMPS to poor people giving them Free Consultation and Medicines.